Collective trauma in northern Sri Lanka: a qualitative psychosocial-ecological study
International Journal of Mental Health Systems
2007
1:5
Received: 16 March 2007
Accepted: 04 October 2007
Published: 04 October 2007
Abstract
Background
Complex situations that follow war and natural disasters have a psychosocial impact on not only the individual but also on the family, community and society. Just as the mental health effects on the individual psyche can result in non pathological distress as well as a variety of psychiatric disorders; massive and widespread trauma and loss can impact on family and social processes causing changes at the family, community and societal levels.
Method
This qualitative, ecological study is a naturalistic, psychosocial ethnography in Northern Sri Lanka, while actively involved in psychosocial and community mental health programmes among the Tamil community. Participatory observation, key informant interviews and focus group discussion with community level relief and rehabilitation workers and government and non-governmental officials were used to gather data. The effects on the community of the chronic, man-made disaster, war, in Northern Sri Lanka were compared with the contexts found before the war and after the tsunami.
Results
Fundamental changes in the functioning of the family and the community were observed. While the changes after the tsunami were not so prominent, the chronic war situation caused more fundamental social transformations. At the family level, the dynamics of single parent families, lack of trust among members, and changes in significant relationships, and child rearing practices were seen. Communities tended to be more dependent, passive, silent, without leadership, mistrustful, and suspicious. Additional adverse effects included the breakdown in traditional structures, institutions and familiar ways of life, and deterioration in social norms and ethics. A variety of community level interventions were tried.
Conclusion
Exposure to conflict, war and disaster situations impact on fundamental family and community dynamics resulting in changes at a collective level. Relief, rehabilitation and development programmes to be effective will need to address the problem of collective trauma, particularly using integrated multi-level approaches.
Keywords
Cognitive Behaviour Therapy
Refugee Camp
Security Force
Child Soldier
Narrative Exposure Therapy
Background
Disasters, whether natural or man made, are now well known to cause a variety of psychological and psychiatric sequelae. These could range from adaptive and constructive coping responses in the face of catastrophic events to understandable non-pathological distress as well as a number of recognizable psychiatric disorders. Conditions like Acute Stress Reaction (ASR, the old disaster syndrome), Posttraumatic Stress Disorder (PTSD), depression, anxiety, somatoform disorders, alcohol and drug abuse [1, 2], and in the long term, complex PTSD [3], enduring personality changes or Disorders of Extreme Stress Not Otherwise Specified (DESNOS) have been shown to occur after disasters [4]. Evidence based and effective, modern treatments like Cognitive Behaviour Therapy (CBT) and pharmacotherapy for PTSD to help individuals affected by the trauma of disasters to recover are now available in western countries [5].
However, there is less recognition or understanding of the effects disasters have at the supra-individual levels as well as about appropriate interventions at these levels. There are many reasons for this relative deficiency. First, the field of disaster studies is itself rather recent. For example the diagnosis of PTSD was accepted only in 1980 with the American DSM III [6].
Secondly, modern psychology and psychiatry have had a western medical illness model perspective that is primarily individualistic in orientation[7]. Geertz describes the Western concept of self as "...a bounded, unique, more or less integrated motivational and cognitive universe, a dynamic centre of awareness, emotion, judgement, and action organized into a distinctive whole and set contrastively both against other such wholes and against its social and cultural background....is a peculiar idea within the context of world cultures" [8]. The 'Kantian concept of an autonomous self' [9] and 'Enlightenment values of individualism' [10] has come to mould western ways of experiencing the self, the world and events. PTSD is clearly a condition that exclusively afflicts the individual self, the traumatic event impacting on the individual psyche to produce the PTSD. However, it is being increasingly recognized generally that we need to go beyond to the family, group, village, community and social levels if we are to more fully understand what is going on in the individual, whether it be his/her development, behaviour, emotion, cognition or responses to stress and trauma as well as design effective interventions to help in the recovery and rehabilitation of not only the affected individuals but also their families and community. For when the family and/or community regained their healthy functioning, there was often improvement in the individual member's wellbeing as well. The sense of community appears to be a vital protective factor for the individual and their families and important in their recovery.
This broader, holistic perspective becomes paramount in non-western, 'collectivist' cultures which have traditionally been family and community oriented, the individual tending to become submerged in the wider concerns [7, 11]. Collective events and consequences may have more significance in collectivistic communities than in individualistic societies like the US and Australia. It may also be important to bear in mind that societies are in flux, changing. With modernization and globalization, collectivistic societies are also increasingly becoming individualistic and consumer oriented. There may also be traditional subcultures within the bigger, individualistic culture. In collectivist societies, The individual becomes embedded within the family and community so much so that traumatic events are experienced through the larger unit and the impact will also manifest at that level. The family and community are part of the self, their identity and consciousness. The demarcation or boundary between the individual self and the outside becomes blurred. For example Tamil families, due to close and strong bonds and cohesiveness in nuclear and extended families, tend to function and respond to external threat or trauma as a unit rather than as individual members. They share the experience and perceive the event in a particular way. During times of traumatic experiences, the family will come together with solidarity to face the threat as a unit and provide mutual support and protection. In time the family will act to define and interpret the traumatic event, give it structure and assign a common meaning, as well as evolve strategies to cope with the stress. Thus it may be more appropriate to talk in terms of family dynamics rather than of individual personalities. There maybe some individual variation in manifestation, depending on their responsibilities and roles within the family and personal characteristics, while some may become the scapegoat in the family dynamics that ensues (see family case histories [12]). Similarly, in the Tamil communities, the village and its people, way of life and environment provided organic roots, a sustaining support system, nourishing environment and network of relationships. The village traditions, structures and institutions were the foundations and framework for their daily life. In the Tamil tradition, a person's identity was defined to a large extent by their village or uur of origin [13]. Their uur more or less placed the person in a particular socio-cultural matrix.
A word of caution is necessary in trying to romanticize or idealize the family, neighbourhood, village, collective and community which in reality are vague, amorphous terms, and which include within it considerable variation among members as well as negative dynamics like scapegoating, marginalization, exclusion, ostracism and hegemonic tendencies. It would also prove very difficult to define community and collective very precisely, as the borders will invariably breakdown [14]. However for this paper, the discussion addresses cataclysmic forces impacting on these structures and as such consideration of some of these important internal difficulties can be temporarily postponed till the overarching issues are clearer.
A better understanding of the supraindividual reality can be sought through the ecological model of Bronfenbrenner [
15
] with the micro, meso, exo and macro systems or the individual nested in the family nested in the community [
16
,
17
]. The Bronfenbrenner model fits the WHO definition of health which also emphasises the need to look beyond the micro or individual level (see Table
1
):
Table 1
Dimensions of health
Dimensions of Health

Causes

Symptoms

Diagnosis

Interventions

Physical

Physical injury

Infections

Epidemics

Pain, fever, Somatization

Physical illness, Psychosomatic, Somatoform disorders

Drugs treatment, Physiotherapy, Relaxation techniques, massage

Psychological

Shock

Stress

Fear-Terror

Loss Trauma

Tension, fear, sadness, learned helplessness

ASR, PTSD, Anxiety, Depression, Alcohol & Drug abuse

Psychological First aid, Psychotherapy, Counselling, Relaxation techniques, CBT

Family

Death

Separation

Disability

Vacuum

Disharmony

Violence

Family Pathology, Scapegoating

Family Therapy

Marital Therapy

Family Support

Social

Unemployment, Poverty, war

conflict, suicidal ideation, anomie, alienation, loss of communality

Parasuicide, Suicide, Violence, collective trauma

Group Therapy, Rehabilitation, community mobilization, Social Engineering

Spiritual

Misfortune, bad period, spirits, angry gods, evil spells, Karma

Despair, Demoralization, Loss of belief, Loss of hope

Possession

Logotherapy, rituals, traditional healing, Meditation, Contemplation, Mindfulness
"Health is a state of complete physical, mental, (family), social and (spiritual) well-being, and not merely an absence of disease or infirmity".
World Health Organisation (WHO)
The family unit has been included as it is paramount in most parts of the traditional world. When the family is affected, the members too are affected, while if the family is healthy the individual is either healthy or recovers within the family setting. The spiritual dimension has been put forward at various WHO fora but has not been formally accepted yet.
This reflexive study grew out of the experience of working in disaster, post-disaster contexts: the man made disaster of war and the 2004 Asian Tsunami in Northern Sri Lanka (see Fig.
1
). The phenomena of collective trauma first became very obvious to the author when working in the post war recovery and rehabilitation context in Cambodia [
18
]. During the Khmer Rouge regime, all social structures, institutions, family, educational and religious orders were razed to 'ground zero' deliberately (so as to rebuild a just society anew!) [
19
]. Mistrust and suspicion arose among family members as children were made report on their parents. The essential unity, trust and security within the family system, the basic unit of society, was broken. Similar changes at the family and community levels became discernable in the Northern Sri Lanka as the conflict continued.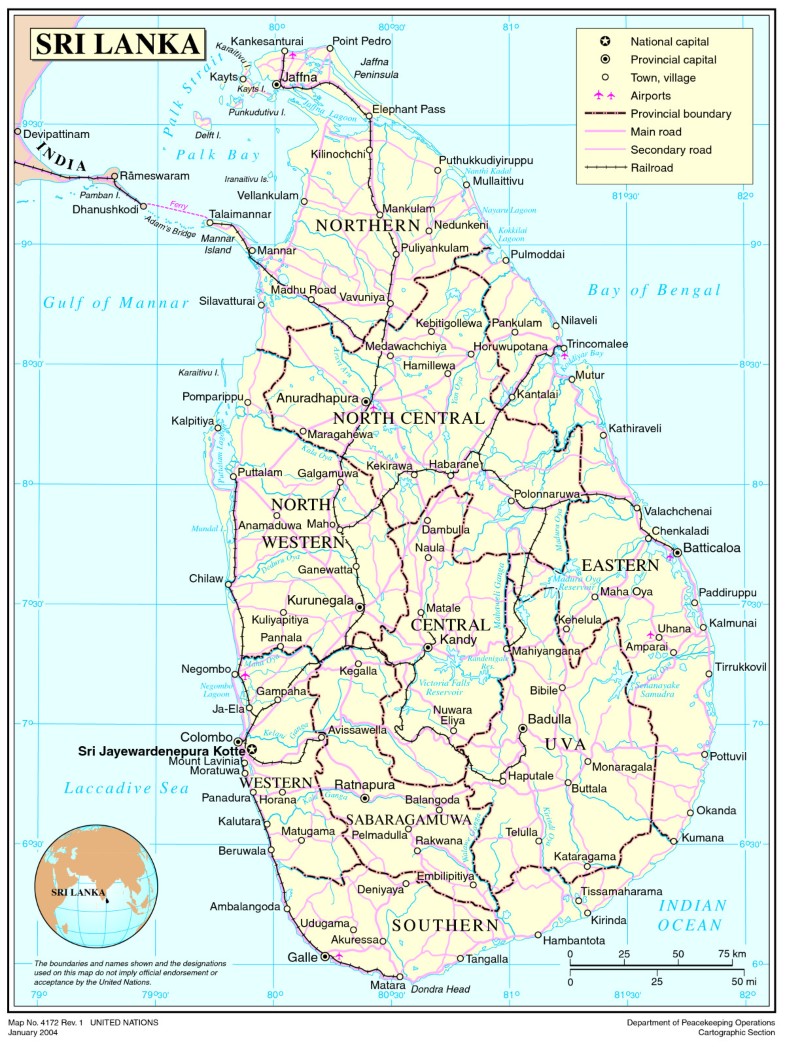 From a conservative society caught up in the world wide modernization and globalization, the minority Tamil society in Sri Lanka became increasingly embroideled in a civil, ethnic war from 1983 onwards. Developing as a defiant reaction to increasing majority Sinhala dominated state policies of discrimination; the youth rebellion took an increasing violent form in opposition to increasing state oppression. The North and East of the country, home to the minority Tamils, bore the brunt of the chronic violence that followed [12]. The state, including the Indian state briefly in the late 1980's, various paramilitaries and Tamil militants have been involved in in cycles of violence, counter violence, terror and counter terror [20]. During a lengthy period of ceasefire, the island was struck by the Asian Tsunami in December, 2004 that affected over 200, 000 people again mainly in the coastal communities of the North and East but also the South. The author was put in charge of addressing the psychosocial needs in the North (see Fig. 1).
The impact of catastrophic events on the individual has been well established internationally [6, 21] and was quite clear in Northern Sri Lanka [12]. There have been some observations on the family level too in Northern Sri Lanka [22]. However, it was when it came to addressing mental health problems that the impact on the community became evident. Simple interventions at the individual level were not sufficient. The problems at the community level too had to be understood and addressed if the individuals were to be helped. Further, families and communities had to recover if any meaningful socio-economic rehabilitation programmes were to succeed. In fact, in time most long-term programmes, as in other post disaster settings arond the world [23–25], began to include a community based psychosocial component within the larger socio-economic rehabilitation and reconstruction efforts, [26, 27].
In these complex (post) disaster situations, the multi-level WHO definition of health is useful in conceptualizing the causes, effects and interventions for psychosocial and mental health problems found in these devastated communities (Table 1). In reality, these dimensions are interacting systems which are interrelated, each level having effects at other levels so that a holistic approach that integrates all these levels becomes necessary.
For example, physical illnesses like injuries, epidemics and malnutrition resulting from war conditions [28, 29], will have direct physical causes, physical symptoms and physical treatment. But it could also have psychological, social and spiritual causes, symptoms and treatment. Physical diseases, in addition to the familiar physical signs & symptoms, also manifest with psychological, social and spiritual symptomatology. At the same time, psychological factors can cause or contribute to physical diseases like Bronchial Asthma, Hypertension, Eczema, and Colitis. Mental illnesses can manifest with physical symptoms such as the common Somatoform Disorders or Somatization. A global perspective shows that mental health problems the world over produces a major proportion of the Global Burden of Disease (GBD), including death, disability and injury due to behavior related problems such as adverse life style, alcohol and drug use, road traffic accidents, war and violence, exploitation, and AIDS [30]. However, the contribution to GBD from disasters is yet to be mapped out [28, 29]. Physical and mental illness have social repercussions. Epidemics of physical illnesses like the current HIV/AIDS pandemic has severe socioeconomic implications nationally and internationally. Mental illnesses can cause problems in the family, community and work place due to irritability, paranoia, relationship conflicts, alcoholism and/or drug abuse, domestic violence, morbid jealousy and social withdrawal. In a like manner, social problems like unemployment, poverty, war, and displacement can cause psychosomatic diseases, mental illnesses like depression and suicide [31]. When considering treatment one can also have interventions at all these levels, either alone or in combination. Thus pharmacotherapy or treatment with drugs is the prototype of physical treatment. Psychotherapy, counselling, behavioural and cognitive therapies are some common psychological forms of treatment. While marital, family and group therapies as well as rehabilitation, NGO networking, occupational therapy and vocational training can be considered social forms of therapy. Likewise, it is said that spiritual meaning, hope and strengths will produce resilience and improvement at all the above levels. Viktor Frankl [32] pioneered this form of treatment which he called logotherapy after surviving the Nazi concentration camps during World War II.
Previous workers had already drawn attention to the community level problems caused by disasters. Kai Erikson [33, 34] gives a graphic account of Collective Trauma as 'loss of communality' following the Buffalo Creek disaster in the US. He and colleagues described the 'broken cultures' in North American Indians and 'destruction of the entire fabric of their culture' due to the forced displacements and dispossession from traditional lands into reservations, separations, massacres, loss of their way of life, relationships and spiritual beliefs [35]. Similar tearing of the 'social fabric' has been described in Australian aboriginal populations [36]:
"...it implies things have to be woven together properly for strength, what a shame our fabric was torn to shreds through invasion, what we have left now is in tatters, repairing fabric can make it weak or sometimes stronger depending on how it is done. It is important to repair the holes and not just cover them over so that when some tension is applied it doesn't fall apart. What kept our fabric strong was spirituality, the invisible thread that binds us all"
The National Strategic Framework for Aboriginal and Torres Strait Islander Health [37] states:
"The sense of grief and loss experienced by generations of Aboriginal and Torres Strait Islander peoples in relation to dispossession, to the disruption of culture, family and community and to the legislated removal of children has contributed to ongoing problems in emotional, spiritual, cultural and social well-being for Aboriginal and Torres Strait Islander individuals, families and communities."
O'Donoghue [38] describes the collective trauma,
"Aboriginal culture has been subjected to the most profound shocks and changes. It is a history of brutality and bloodshed. The assault on Aboriginal people includes massacres, diseases, dispossession and dispersal from the land... I cannot overstate the traumatic consequences of policy and the destruction of Aboriginal and community life that resulted."
Nadew [39] in his survey of psychosocial and mental health problems among the aboriginal population found a very high prevalence of conditions like PTSD (55 %), depression (22%), alcohol abuse (73 %), and violence. He linked it to the long-term and massive trauma suffered by the aboriginal population. O'Shane identifies the loss of pride, identity, self respect, language, songs, laughter, spirituality, relationships, traditional knowledge and skills in the group as a whole [40]. The consequences are trans-generational, being passed onto later generations as was found with World War II holocaust survivors [41].
The high incidence of mental health problems, alcohol and drug abuse, physical and sexual violence, child abuse and family disharmony found among indigenous populations around the world can be the result of the break up of traditional culture, way of life and belief systems. Instead of the usual response of incarceration, exclusion and suppressive measures, significantly, there are now attempts to repair the torn social fabric. The Dulwich centre in Adelaide has used narrative therapy to 'reclaim community' [42]. By sharing stories at community gatherings relationships, connection and links are re-established, traditional values, beliefs, knowledge, skills and hope are re-kindled, giving rise to community solidarity and support. The method has been expanded to other indigenous populations around the world.
There was a description of 'cultural bereavement' due to the loss of cultural traditions and rituals in Indochinese refugees in the US [43] and collective trauma due to the chronic effects of war [44]. More recently, a number of discerning workers in the field have been drawing attention to the importance of looking at the family [26, 27, 45, 46] and cultural dimension [7, 45, 47–49] following disasters. Finally, Abramowitz [50] has given a moving picture of 'collective trauma' in six Guinean communities exposed to war.
Borrowing from the individual psychopathological descriptions, the term collective trauma is being introduced in this study in a metaphorical sense to represent the negative impact at the collective level, that is on the social processes, networks, relationships, institutions, functions, dynamics, practices, capital and resources; to the wounding and injury to the social fabric. The long lasting impact at the collective level or some have called it tearing in the social fabric would then result in the social transformation [51], of a sociopathic nature that can be called collective trauma. This study attempts to describe the phenomena of collective trauma, to delineate the symptoms and community level interventions that can be used in such contexts.
Methods
This qualitative, ecological study is a naturalistic, psychosocial ethnography [52] in two contexts: The main focus is on the ongoing chronic civil war situation from 1983 onwards contrasted to the pre-war conditions and the post Dec. 2004 Tsunami recovery effort in Northern Sri Lanka. The ecological study follows Bronfenbrenner [11]:
"...an effort to investigate the progressive accommodation between the growing human organism and its environment through systematic contrast between two or more environmental systems or their structural components, with a careful attempt to control other sources of influence either by random assignment (planned experiment) or by matching (natural experiment).... There are instances in which a design exploiting an experiment of nature proves a more critical contrast, insures greater objectivity, and permits more precise and theoretically significant inferences- in short, is more elegant and constitutes "harder" science- than the best possible contrived experiment addressed to the same research question."
Participant Observation, in depth case studies [53], key informant interviews and focus group discussions as well as several quantitative, individualistic psychosocial and mental health surveys published elsewhere [12, 54, 55] provided the data for the study. The focus group discussions have included groups from the community, village, local government (G.S.-village headman, teachers, social workers, priests); displaced camp and relief workers; District (GA-District Authority, Non-Governmental Organization (NGO), militant) committees; National (Health Ministry, Presidential Task force); and International NGO (INGO's, UN) groups that discussed and debated mental health and psychosocial issues. The author had the unique experience of working as a mental health professional in these settings. Though being an Asian, ethnic Tamil, the author had most of his education and professional training abroad, particularly in the west, providing both an 'insiders' and 'outsiders' view point.
The main purpose of this study is an attempt to phenomenologically describe and understand the familial and societal factors involved so as to better design and implement more effective, appropriate and workable interventions, policies and programmes in a post-disaster context. In addition there is a plea for prevention of such disasters and the consequences they entail by documenting and describing the devastating effects of war and disasters on families and communities.
Collective strategies
Traditionally, disaster interventions have been categorized into rescue, relief, rehabilitation, reconstruction and development depending primarily on time course after the disaster. Apart from attending to the immediate basic needs and other acute problems in the rescue and relief phases after a major disaster, rehabilitation, reconstruction and development strategies need to include collective level interventions [23–25]. Indeed, it has been our experience that many long-term programmes do not reap the expected benefits if they do not take into consideration collective issues and ways of addressing them. In fact, many individual oriented interventions appear to fair much better when undertaken within an overall collective level design.
Models of mental health interventions
One approach is to use the WHO definition of health already mentioned to address the physical and psychosocial needs of the survivors through physical and psychosocial interventions (Table
1
). Another more comprehensive and useful conceptual model (Fig.
4
) for psychosocial and mental health interventions is an inverted pyramid with five overlapping and interrelated levels of intervention prepared for UN and other Disaster workers by the United Nations and International Society for Traumatic Stress Studies [
2
]. As shown in Figure
3
, at the top of the pyramid are societal interventions designed for an entire population, such as laws, public safety, public policy, programmes, social justice, and a free press. Descending the pyramid, interventions target progressively smaller groups of people. The next two layers concerns community level interventions which include public education, support for community leaders, development of social infrastructure, empowerment, cultural rituals and ceremonies, service coordination, training and education of grass root workers, and capacity building. The fourth layer is family interventions that focus both on the individual within a family context and on strategies to promote wellbeing of the family as a whole. The bottom layer of the pyramid concerns interventions designed for the individual with psychological symptoms or psychiatric disorders. These include psychiatric, medical and psychological treatments which are the most expensive and labour intensive approaches that require highly trained professional staff. Therefore, they should be reserved, particularly in the poor, developing world settings, for the small minority of individuals who cannot benefit from the larger scale interventions at higher levels of the pyramid. Theoretical, practical, empirical and treatment considerations suggests a holistic, integrated, multiple levels of interventions, an expanded psychosocial synthetic approach [
93
].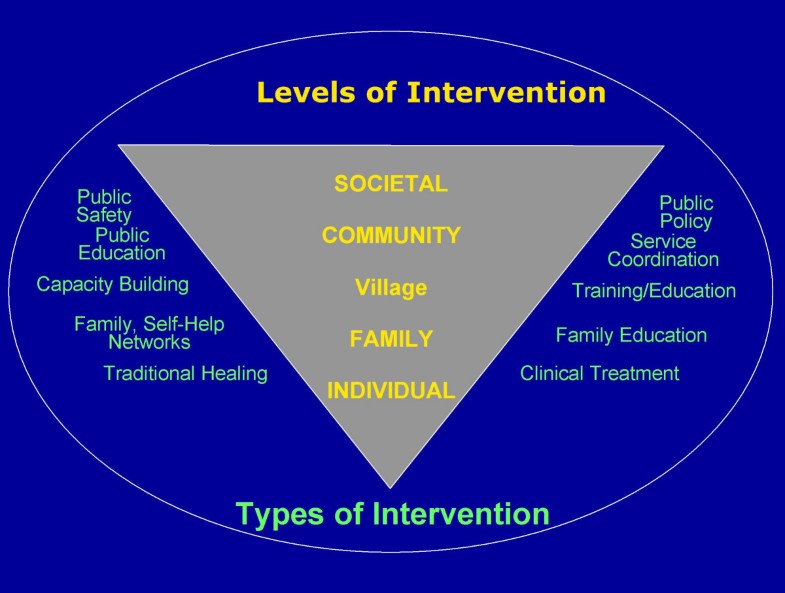 Community approaches
The wide spread problem of collective traumatization and '
loss of communality
' following disasters is best approached through community level interventions. Community based approaches will enable one to reach a larger target population as well as undertake preventive and promotional public mental health activities at the same time. In these circumstances it may be more meaningful to look at how the community as a whole has responded, how the community coped, and what we can do at the collective level. For example, it may be more beneficial to consider strengthening and rebuilding the family and village structures, as well as finding a common meaning for the immense suffering than to treat only individual traumatization. For this purpose, the protocol developed by the Transcultural Psychosocial Organization, a WHO collaborating centre, working around the world to relieve the psychosocial problems of people affected by internal conflict and war [
95
] was very effectively adapted to the situation in Cambodia [
96
] and in northern Sri Lanka [
89
]. The main principles of community level approaches (Table
4
) are to empower the community to look after their own problems by not only through psychoeducation to transfer basic psychosocial knowledge and skills but also through encouragement, support, affirmation and re-establishing community processes, traditional practices, rituals, resources and relationships.
Table 4
Community approaches
Community Approaches

Awareness

Training of community workers

Public mental health promotive activities

Encourage indigenous coping strategies

Cultural rituals and ceremonies

Community interventions

- Family

- Groups

- Expressive methods

- Rehabilitation

Prevention
General awareness
Basic information about what has happened, what to do and not to do and where help can be obtained were done through the media, pamphlets and popular lectures. One such popular programme was carried out through the Extra Mural Studies unit of the University of Jaffna where batches of around 100 participants were taken through a basic introduction to psychosocial issues over a five week period. Five such courses were completed. Another major psychoeducational effort was carried out immediately after the Tsunami by Mental Health Task Force in Jaffna using the media, pamphlets and lectures. The Mental Health Task Force (MHTF) was formed spontaneously after the Tsunami by most of the organizations involved in psychosocial work in the Jaffna peninsula which then met regularly and attempted to organize and coordinate the psychosocial work after the tsunami. MHTF now continues as the Psychosocial Coordination Forum under the Deputy Director of Health Services, Jaffna. After the Tsunami the MHTF carried out 18 awareness programmes for 568 relief workers and others. Similarly the committees involved in Child abuse and Domestic violence carried out considerable to public education programmes from 1999 which resulted in increased numbers being reported (see above) and being helped.
Training
Training of grass root community level workers in basic mental health knowledge and skills is the easiest way of reaching a large population [97]. They in turn would increase general awareness and disseminate the knowledge as well as do preventive and promotional work. Thus there would be a multiplication effect where the information would spread to the general population. The majority of minor mental health problems following disasters could be managed by community level workers and others referred to the appropriate level. A referral system where more severe problems are referred for more specialized treatment was established (Fig. 2). Primary Health Workers including doctors, medical assistants, nurses, Family Health Workers; school teachers; village resources like the village headman, elders, traditional healers, priests, monks and nuns; Governmental, Non Governmental Organization (NGO), volunteer relief and refugee camp workers were community level workers who were trained. A manual based on the WHO/UNHCR [98] booklet, "Mental Health of Refugees", was adapted to the cultural context for this purpose [60]. A Training of Trainers (TOT's) in community mental health using this manual was done under a UNICEF programme. They in turn trained a variety of community level workers from the North and East and have followed them up regularly in the field (for example, after the Tsunami, there were 36 different training programmes for 11 agencies with a total of 732 participants over a 9 month period in 2005).
A systematic training programme for teachers in basic mental health for a period of six months with assessments and follow up were carried out with the German supported GTZ-BECAre programmes and Ministry of Education, University of Jaffna and Shantiaham, a local NGO working in the psychosocial field. Altogether around 151 primary school teachers from all three communities selected from the North and East were trained in the period 2002–2005 using a manual, Child Mental Health, developed locally for this purpose [99]. They then received further extensive training in Narrative Exposure Therapy (NET) [100] by a German team for the University of Konstanz (Vivo) and a manual for NET made available in Tamil. An impact study [101] found that there had been considerable change in the attitude and skills of the teachers who now interacted more with their students, parents and colleagues, avoided punishment and created a more caring, participatory and democratic class atmosphere apart from carrying out a variety of psychosocial interventions for affected students. They were then involved in the training of around 1030 'Befriender' teachers from the same region in simple psychosocial issues over a 5 day course using a manual, 'Joyful Living', prepared for this purpose [102]. Regular follow-up and supervision locally was carried out. Yet, the whole programme faltered after the German GTZ changed its programme focus from 2005. One advantage of all this training that had been done during the war period became apparent when the tsunami struck in 2004. The trained teachers were mobilized to assist the affected students throughout the North East. The benefits of this programme became evident nationally and the manual was translated into Sinhalese. Copies in Sinhala and Tamil were made available in all the schools in the Island through the efforts of PLAN International, and psychosocial training for teachers in the Tsunami affected areas was done.
Traditional coping strategies
Indigenous coping strategies that had helped the local population to survive were encouraged. Culturally mediated protective factors like rituals and ceremonies were promoted and arranged. For example funerals and anniversaries, were very powerful ways to help in grieving and finding comfort. They were a source of strength, support and meaning.
Teaching of the culturally appropriate relaxation exercises to large groups in the community and to students in schools was carried out as both preventive and promotive mental health. The benefits of these originally spiritual practices were not confined to producing relaxation. When methods are culturally familiar, they tap into past childhood, community and religious roots and thus release a rich source of associations that can be helpful in the healing process. It became clear that traditionally relaxation methods exemplify a holistic approach working at the physical, mental, social and spiritual levels; preventing, maintaining, promoting well being as well as being therapeutic when needed [59]. We found that people naturally turned to traditional practices when under stress and found relief in them. For example, in Sri Lanka we found religious practices such as ana pana sati, repetition of meaningful phrases such as Buddham saranam gacchami, mindfulness, and vipassana meditation among Buddhists; rosary or telling prayer beads and contemplation among Catholic Christians; thikir among Muslims; and Japa mala, repetition of a mantra such as om, shanthi asanam, yoga, pranayamam and meditation among Hindus were powerful methods known to the people and priests.
Conclusion
The effects of disasters, particularly massive, chronic traumas go beyond the individual to the family, community and wider society. Social processes, dynamics and functioning can be changed fundamentally by disasters. In the aftermath of war some of the community level changes included mistrust, suspicion, silence, brutalization, deterioration in morals and values, poor leadership, dependency, passiveness and despair. It maybe important to recognize the manifestations of collective trauma, so that effective interventions that is effective at the community level can be used in these complex situations. Community approaches that were found useful in rebuilding communities in Northern Sri Lanka were creating public awareness, training of grass root workers, encouraging traditional practices and rituals, promoting positive family and community relationships and processes, rehabilitation and networking with other organizations.
Limitations
This was only a phenomenological study of collective trauma. There are obvious limitations to dispassionate scientific study due to the ongoing war situation. The case for collective trauma was merely described, no random controlled trials were conducted nor the outcome of the community interventions collected in a systemic way. The evidence base for the efficacy of psychosocial interventions in a post disaster situation is still lacking and only guidelines have emerged from humanitarian work carried out so far [25]. Operational criteria for the syndrome of collective trauma and the evidence for best practice in these complex situations will need to be established through further studies.
Abbreviations
APA:

–American Psychiatric Association
BECAre:

– Basic Education for Children in Disadvantaged Areas
CBO:

– Community Based Organization
CBT:

– Cognitive Behavioural Therapy
CSO:

– Community Support Office
DSM:

– Diagnostic and Statistical Manual
G.A. :

– Government Agent (District Administrator)
G.O. :

– Governmental Organization
G.S. :

– Gramma Sevaka (Village Headman)
GTZ :

– German Technical Cooperation
IASC :

– Inter Agency Standing Committee
INGO :

– International Non-Governmental Organization
LTTE :

– Liberation Tigers of Tamil Eelam (dominant Tamil militant group)
N.S.L :

– Northern Sri Lanka
NGO :

– Non-Governmental Organization
PTSD :

– Posttraumatic Stress Disorder
SCF :

– Save the Children Fund
SSRI :

– Selective Serotonin Reuptake Inhibitor (Anti depressant)
UNDP :

– United Nations Development Program
UNHCR :

– United Nations High Commission for Refugees
UNICEF :

– United Nations International Children Emergency Fund
WHO :

– World Health Organization
Declarations
Acknowledgements
I wish to acknowledge colleagues and co-workers for without them the ongoing work in Northern Sri Lanka would not have been possible nor the observations recorded here. Sivayokan and Canagarathanam always worked closely with the author as did the psychiatric units at Tellipallai, Jaffna, Point Pedro, Killinochi, Vavuniya and Mannar. The Multidisciplinary Team in these units and Shantiaham were the back bone of the psychosocial interventions in these disaster situations. Many colleagues around the globe have been very supportive of our work and constructively commented on earlier versions of this paper. They include Sambasivamooorthy Sivayokan, Rachel Tribe, Anula Nikapota, Mark van Ommeren, Willem van de Put, Joop de Jong, Ken Miller, the late Robert Barrett, Michael Roberts, Helen Herrman, Norman James, Harry Hustig, Beverley Raphael, Derrick Silove, Johan Schioldann, Rajan Hoole, Ted Lo, Arun Ravindran, Jack Saul, Nancy Baron, Jeannine Guthrie, Gaithri Fernando, Ananda Gallapati, Wietse Tol, Clare Pain, Elisabeth Schauer, Thomas Elbert and many others. Naguleswaran (Babu) drew Fig. 3, Creating Child Soldiers, Vijeyashankar prepared Tables 5 and 6, Rathakrishnan the figures and Anavarathan was helpful in the analysis of the post-tsunami data. Institutionally, the University of Jaffna and Shantiaham provided the base and facilities for carrying out this study. The University of Adelaide, particularly the Glenside Campus and Barr-Smith Library, provided the visiting Fellowship and excellent facilities to carry out the literature survey and collaborative work to produce the paper. The Scholar Rescue Fund based in New York bestowed the Fellowship and timely assistance to leave the disturbed northern province on my sabbatical leave to Adelaide in Australia.
Authors' Affiliations
(1)
Department of Psychiatry, University of Adelaide, Australia
(2)
Scholar Rescue Fund, Institute of International Education, New York, USA
(3)
University of Jaffna, Sri Lanka
Copyright
© Somasundaram; licensee BioMed Central Ltd. 2007
This article is published under license to BioMed Central Ltd. This is an Open Access article distributed under the terms of the Creative Commons Attribution License (http://creativecommons.org/licenses/by/2.0), which permits unrestricted use, distribution, and reproduction in any medium, provided the original work is properly cited.