'teen Mental Health First Aid': a description of the program and an initial evaluation
International Journal of Mental Health Systems
2016
10:3
Received: 23 May 2015
Accepted: 7 January 2016
Published: 19 January 2016
Abstract
Background
Many adolescents have poor mental health literacy, stigmatising attitudes towards people with mental illness, and lack skills in providing optimal Mental Health First Aid to peers. These could be improved with training to facilitate better social support and increase appropriate help-seeking among adolescents with emerging mental health problems. teen Mental Health First Aid (teen MHFA), a new initiative of Mental Health First Aid International, is a 3 × 75 min classroom based training program for students aged 15–18 years.
Methods
An uncontrolled pilot of the teen MHFA course was undertaken to examine the feasibility of providing the program in Australian secondary schools, to test relevant measures of student knowledge, attitudes and behaviours, and to provide initial evidence of program effects.
Results
Across four schools, 988 students received the teen MHFA program. 520 students with a mean age of 16 years completed the baseline questionnaire, 345 completed the post-test and 241 completed the three-month follow-up. Statistically significant improvements were found in mental health literacy, confidence in providing Mental Health First Aid to a peer, help-seeking intentions and student mental health, while stigmatising attitudes significantly reduced.
Conclusions
teen MHFA appears to be an effective and feasible program for training high school students in Mental Health First Aid techniques. Further research is required with a randomized controlled design to elucidate the causal role of the program in the changes observed.
Keywords
Mental Health First AidMental health literacyStigmaAdolescentsSecondary school
Background
Mental Health First Aid is defined as the help provided to a person developing a mental health problem or experiencing a mental health crisis. The first aid is given until the appropriate professional treatment is received, or the crisis resolves [1]. Mental Health First Aid techniques have been taught in training programs offered by Mental Health First Aid (MHFA) since 2001. A recent meta-analysis of 15 separate evaluations of MHFA training found that it is effective in improving knowledge, attitudes and behaviours related to mental ill-health. The analyses found small to medium effect sizes, with the largest gains seen in improvements to knowledge [2]. By 2011, the MHFA training program had been presented to more than 1 % of Australian adults and had spread to 17 countries outside its headquarters in Australia [3]. It has also been recognised with a number of awards for excellence, is listed in the US Substance Abuse and Mental Health Services Administration's (SAMHSA) National Registry of Evidence-Based Programs and Practices (http://www.nrepp.samhsa.gov/ViewIntervention.aspx?id=321) and has been cited as a model of 'radical efficiency' in the provision of social services [4].
Although the original version of the training was designed to teach adults how to assist other adults with mental health problems, it soon became clear that tailoring for other specific cultural and age groups was required. Versions of the MHFA course have now been developed for Aboriginal and Torres Strait Islander peoples [5, 6], Chinese Australians [7] and for adults and professionals in contact with young people with emerging mental illness (e.g. the Youth Mental Health First Aid program [2, 8, 9]). Yet while there are current, established and effective programs for improving MHFA skills among adults, there are no corresponding programs designed to teach adolescents how to assist their peers. Similarly, although there are existing school-based mental health literacy programs [10], these do not focus specifically on MHFA knowledge and skills.
Methods
Participants
Eligible students were recruited from host schools agreeing to participate in the evaluation research. These were government, Catholic or independent secondary schools in the greater Melbourne area of Australia. Schools were eligible if they were willing to withhold other mental health training until the completion of the research (at the conclusion of the 3 month follow-up period), or if they had not provided similar mental health literacy programs to their year 10–12 students in the last 12 months. Four schools agreed to host the study: one metropolitan government school, one provincial government school, one metropolitan independent school, and one provincial Catholic school. Details of the sociodemographic characteristics of the four schools are given in Additional file 1. In return for hosting the research, schools were offered teen MHFA training to all students in years 10 and 11 free of charge, in addition to at least one Youth MHFA course for parents and one for teachers of students attending the teen training. More courses were provided where warranted by parent and teacher interest.
All students at participating schools in years 10 and 11 (aged 15–17 years) were offered the teen MHFA training program, whether or not they participated in the evaluation research. Teachers and parents of student participants were also invited to provide feedback in survey format. All intervention and survey administration sessions were conducted between February and November 2013 (in Australia, school years run between February and December). The terms when the intervention was run was not standardized across schools.
Intervention
The teen MHFA training intervention involved three 75-minute classroom sessions facilitated by an accredited MHFA Instructor with specific training and experience in youth mental health. Sessions were presented to class groups of 15–25 students during normal school hours. All students attended the three training sessions, as the course was imbedded within their regular curriculum. For students who did not have parental consent, or did not provide assent to participate in the research, they were given alternative activities to do in class by the regular classroom teacher, or allowed private study time at a location outside the classroom (e.g. in the school library). The students' regular classroom teacher was present during the training. Training was normally completed within 5–8 school days, depending on timetabling at each school, with at least 1 day between each session. The training involved: a didactic powerpoint presentation; video presentations, role-plays, group discussion and small group activities. A student booklet was provided for each participant, for use in sessions and for reference after course completion [41]. A teaching manual was provided to instructors to guide facilitation and ensure fidelity and consistency.
Program content is outlined in Table
1
. The central teaching of MHFA training programs is an action plan. Modelled on the action plans developed for MHFA training courses for adults [
8
,
42
] and based on the key messages for adolescents from a Delphi expert consensus study [
36
], the teen MHFA action plan provides five first aid strategies taught in a mnemonic designed to be easy to remember (see Fig.
1
). All materials and program content were piloted with two groups of adolescents (n = 23), whose feedback on how to improve the training was incorporated before the uncontrolled evaluation began.
Table 1
Structure and content of the teen Mental Health First Aid training
Session 1: 75 min

Session 2: 75 min

Session 3: 75 min

Topics presented:

What is mental health?

What are mental health problems?

Types of mental health problems

Impact on young people

Stigma

Appropriate help

Topics presented:

Helping a friend in a mental health crisis

What is mental health first aid?

What is a mental health crisis?

Using the teen MHFA action plan to help a friend in crisis

Recovery position

Topics presented:

Helping a friend who is developing a mental health problem

Importance of acting early

Using the teen MHFA action plan to help a friend developing a mental health problem

Helpful links and resources

Videos:

Talking about it 1 (4:50 s)

Getting help (5:32)

Video:

Mates (13:55)

Videos:

Talking about it 2 (4:14)

Talking about it 3 (6:02)

Activities:

Group discussion of how mental health problems impact on young people

Identifying supportive adults

Relaxation

Activities

Group discussion of confidentiality vs safety

Role play recovery position

Activities:

Group discussion of Luke and Ali's stories

Role play using the action plan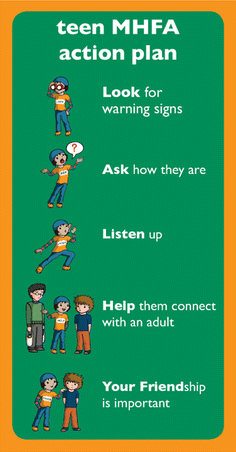 Because a core message of the teen MHFA training is to seek assistance from a trusted and reliable adult when a peer is experiencing a mental health problem, the Youth MHFA course was also provided to staff and parents at participating schools. One course was provided for teachers and another for parents. This ensured that adults who were called upon to assist adolescents were confident in providing support and could facilitate appropriate referral pathways to effective treatment interventions.
Procedure
Schools were initially approached to determine interest, before a memorandum of understanding was established between the research team and the school principal. Three weeks before the teaching sessions for students were due to begin, a plain language statement and consent form was sent to the parents of each student to receive the training, either via email or in hard copy via mail. Students completed the baseline survey up to 1 week before participating in the first session. The student surveys were administered online by surveymonkey.com. Students were sent a generic link to the survey by their school administrator. Survey sessions were scheduled during regular classroom time, where students either used their own laptop or a laboratory computer to access the link sent. Students provided their student ID as a unique identifier so that each of the three questionnaires could be paired at the completion of data-entry. If students had difficulty with their computer or the electronic link to the survey, they completed a hardcopy survey and this was handed to the regular classroom teacher, who passed it back to the research team for anonymous data entry. Completion of the measures took approximately 40 min.
The three sessions of the intervention were held across 5–8 school days, depending on timetabling at each school, with at least 1 day between each session. The post-course survey was then completed within 1 week of the final session.
Measures
A survey questionnaire was developed to measure mental health literacy, stigmatising attitudes, MHFA behaviours, and the mental health and help-seeking status of adolescents. It was administered at three time points: before, immediately after, and 3 months after the training. The questionnaire included items adapted from the Australian National Survey of Youth Mental Health Literacy [43], which related to two vignettes; one depicting an adolescent experiencing depression with suicidal ideation (John), and another experiencing social phobia (Jeanie). The vignettes are provided in Additional file 2. All open-ended responses were coded by an independent researcher (Alyssia Rossetto) according to a structured protocol described in a separate publication [44] and blind to measurement condition. For some of the measures below, one-month retest reliability data is available for 165 students from a school which was not involved in this evaluation and did not receive the intervention.
Data analysis
Statistical analysis
Descriptive statistics, means and percentages, were used to examine the distributions of student demographic characteristics. To evaluate the effect of the training, changes in key outcomes over time (pre, post and follow-up) were examined using logistic and linear regression mixed-models for binary and continuous outcomes [56]. All results are reported as odds ratios (OR) or unstandardized regression coefficients (B), with 95 % confidence intervals (95 % CIs) and standard errors (SE) respectively. For continuous outcomes, outliers were removed for the data analysis. The strength of these maximum likelihood-based models is that they can account for the clustered data (i.e. the correlation of individual responses over time and the correlation of individual responses within schools).
Missing data were handled using uncongenial, multivariate imputation chained equations and were assumed to be missing at random (MAR) [57, 58]. A series of logistic regression models revealed that there were three covariates that significantly predicted drop-out from the study (p < 0.05): school (regional Catholic school students were less likely to drop-out, Metropolitan government school students more likely to drop-out and regional government school students had a similar drop-out rate to the comparison school, the independent metropolitan school); students who self-reported a mental health problem (more likely to drop-out); and whether students thought a family member would be helpful for the depression with suicidal thoughts (John) vignette (those who responded "yes" were less likely to drop-out). These covariates along with gender and the covariates of interest in the substantive analyses were included in the conditional imputation models, which accounted for the measurement level of the variables imputed (e.g. logistic and linear regressions for binary and continuous outcomes respectively). The inclusion of these predictors of drop-out lends greater plausibility to the MAR assumption [59]. In addition, all multiple imputations were conducted in wide dataset format to take into account the dependence of student responses over time and then reshaped into long format for the mixed-model analyses. Thirty imputed datasets were generated for each substantive analysis.
A repeated measures ANOVA also assessed change over time in the mean number of words used by participants in text-based responses to open-ended questions. All multiple imputations and substantive analyses were conducted using Stata IC/13.1.
Content analysis of open-ended responses
Inductive category development [60] was used to code open-ended responses into categories which could then be used to assess frequencies and analysed quantitatively. To do this, an independent researcher (Alyssia Rossetto) who was blind to measurement occasion scanned all open-ended responses for frequently occurring words or phrases. Category labels that were able to group similar data were drafted. A sample of responses and the proposed categories were then presented to the whole research team for discussion, and a codebook with inclusion and exclusion criteria for each category, was developed (available upon request). Response frequencies were then calculated for each category and analysed.
There were two exceptions to this process. First, the MHFA intentions and actual help given responses were coded according to an a priori categorisation scheme based on the teen MHFA action plan, as described previously [44]. Second, the first aid experiences questionnaire [51], completed at follow-up only, consisted of a mix of forced-choice and open-ended responses. Although the forced-choice responses provided frequency data, the open-ended responses were designed to elicit narrative data about first aid situations encountered. No analyses were conducted on these data; instead a selection of responses are presented to highlight the experiences of participants.
Ethics, consent and permissions
Approval for the research was granted by the University of Melbourne Human Research Ethics Committee. Approval was also granted by the Victorian Department of Education and Early Childhood Development, and the Catholic Education Office Melbourne. To be eligible to participate in the evaluation research, students were required to have parental consent, provide student assent before completing surveys, and plan to attend the teen MHFA training. Students with a known current mental health problem, previous experience of mental illness or suicide bereavement were encouraged to speak to their mental health professional, school counsellor and/or parents before deciding whether to participate.
Discussion
The aim of the current study was to conduct an uncontrolled pilot evaluation of teen MHFA to provide initial evidence of program effects, test relevant measures of student knowledge, attitudes and behaviours, and to examine the feasibility of providing the program in Australian secondary schools. Although there was a large number of students who did not complete the three-month follow-up assessment, which left some planned statistical analyses too underpowered to be conducted, the conservative analyses did reveal that the program was associated with statistically significant improvements in mental health literacy, decreases in stigmatising attitudes, greater confidence in providing MHFA to a peer, increases in intention to seek help and decreases in reporting of psychological distress.
Evidence of program effects
Results for the measures of mental health literacy and stigmatising attitudes appear particularly promising. Given that teen MHFA is a fairly simple 3.75 h intervention, it is encouraging to see that, after receiving the course, students were more than five times more likely to consider a school counsellor as helpful for a young person with a mental health problem, and more than two times more likely to reject the stigmatising belief that you should not tell anyone about a mental health problem. Students were also four times more likely to report feeling confident in helping a peer with a mental health problem after receiving the teen MHFA training. Given that confidence has been found to be a predictor of quality first aid intentions [30, 51, 62–66], this finding is particularly important. This is also reflected in the large number of students who reported feeling 'well prepared' for helping someone in the future if they were to come across a peer with a mental health problem, even though they had not experienced a first aid situation in the last 3 months.
Despite the lack of statistically significant results arising from measures of MHFA behaviours, the qualitative data collected in the First Aid Experiences Questionnaire were devoid of any negative experiences described by students in trying to assist a peer with a mental health problem or crisis. It therefore appears that the teen MHFA training did not have any negative impact on first aid behaviours.
It is also encouraging that the measure of psychological distress provided no evidence that the course was associated with any iatrogenic effects on student mental health. Indeed, reports of psychological distress decreased from baseline to follow-up. While a previous evaluation of MHFA found a statistically significant positive impact on participant mental health [67], this has not been consistently found [68]. It is possible that this finding is a re-test effect, which is often found on such measures [69]. Similarly, students' self-report of mental health problems or crises showed a decrease from baseline to follow-up. However, given that self-report of a mental health problem was a predictor of drop-out, it is possible that students with mental health problems were less likely to engage in the training and research program or were not present for the administration of the final questionnaire, given higher rates of absenteeism and truancy in students with mental illness [70]. These findings indicate that further evaluation of teen MHFA using a randomised controlled trial design would be valuable in elucidating whether the program is benefitting student mental health.
Importantly, although the numbers of students reporting a mental health problem were too small to be subject to statistical analyses, help seeking intentions were assessed by asking students if they had a problem like John's/Jeanie's what they would do about it. All analyses revealed statistically significant improvements after receiving the teen MHFA training, and that these improvements were maintained 3 months later.
Limitations
Two major limitations of the current study are the participant drop-out rate and the high rate of non-responses to a number of important open-ended questions. Because a large proportion of the student sample did not complete the follow-up questionnaire, the resulting small sample hampered statistical analyses and the findings relating to any significant changes in MHFA behaviours remain ambiguous. In particular, the measurement of MHFA behaviours relied heavily on open-ended responses, which were not well received by the student participants. That students' open-ended responses became significantly truncated over time is an important finding of this study, and has provided a valuable lesson in crafting appropriate measurement instruments for future evaluations of MHFA training with high-school students.
Previous research into question format has found that students perform better on open-ended questions if they have already answered structured (i.e., multiple choice) versions first [71]. In future trials, forced-choice response options will therefore be offered (using the most common responses from the current study), alongside a free-text 'other' option, to capture any ideas that are not covered by the given response set. We believe that this alternative response format will be a much more acceptable form of gathering responses from young people.
Feasibility of providing the program in Australian secondary schools
Results from the participant satisfaction surveys revealed that students largely enjoyed the teen MHFA training, found it useful and engaging. A minority rated the content as not new to them, perhaps reflecting exposure to other mental health promotion programs available in Australia and to the popularity of psychology as a high school subject. The most highly rated aspect of the program was the videos. These findings were complemented by the positive reactions of parents and teachers to the program, who also reported that they thought teen MHFA was useful and enjoyable for students. Therefore, despite a clear and frank discussion of suicidal ideation in secondary school classrooms, the teen MHFA training program appears to be well received by students and adults. Furthermore, this evaluation found no evidence of any iatrogenic effects on student psychological distress or negative first aid outcomes.
Study significance
As our understanding of the importance of improving adolescent mental health literacy and help-seeking has improved, a number of education programs have been developed for adolescents within secondary schools [72–75]. Two innovative aspects of the teen MHFA program are that it is provided by a trained instructor with experience in adolescent mental health, and focuses on developing first aid behaviours to help a peer. Although other programs have been designed to improve mental health literacy and help-seeking, they do not address the issue of peer-to-peer disclosure of mental health problems, which appears to be an initial step on the help-seeking pathway for many adolescents, especially girls [22]. Most recently, another Australian school program, headstrong, was evaluated using a cluster randomised controlled trial, with 380 year 9 and 10 students across 10 Catholic and Independent schools [76]. This program consists of 10 h of content delivered by the regular classroom teacher, and is designed to increase mental health literacy for depression, decrease stigmatising attitudes and improve help-seeking in adolescents with mental health problems. Although all measures except those used to assess stigmatising attitudes were different, the results provide a point of comparison to the findings of the current study. A significant group (headstrong program vs normal classroom control) by time (pre-, post and 6-month follow-up) interaction was found for the dangerous/unpredictable scale, but not the weak-not-sick. For the latter, there was a main effect of time, indicating that both groups reduced in their belief that adolescents with depression are 'weak' not 'sick' across measurement occasions. This may indicate that the current findings are re-test effects, rather than a result of the teen MFHA program. However, the headstrong evaluation failed to find any statistically significant improvements on measures of help-seeking or student mental health, across both the intervention and control groups. Indeed, improvements in help-seeking intentions have been found in only one other program evaluation [72] and appear to be a particularly difficult factor to improve. Although the current results come from an uncontrolled pilot trial, significant improvements were seen for psychological distress and help-seeking intentions, suggesting that teen MHFA may have important differences to previous programs. Certainly the results of the current study indicate that a randomised control trial is warranted, to further understand the causal effects of the teen MHFA training on these important outcomes for adolescents.
Conclusions
Although a large proportion of students failed to participate in post-training assessments, the conservative analyses conducted revealed that the teen MHFA program appears to be associated with statistically significant improvements in mental health literacy, decreases in stigmatising attitudes, confidence in providing MHFA to a peer, increases in intentions to seek help and improved student mental health. The program is feasible for delivery to secondary school students and further research using refined measures, better suited to students, is indicated.
Declarations
Authors' contributions
LMH was responsible for the development of intervention materials along with CMK and AFJ. LMH and AFJ were responsible for the research design, funding applications and administration. CMK provided the teen MHFA training within participating schools, and was responsible for training other MHFA Instructors who were also involved in providing training within participating schools. RJM was responsible for school liaison, collection of parental consent and survey data. SC was responsible for dataset cleaning, management and analyses. LMH and RJM also contributed to data analysis. All authors were involved in drafting and revising this manuscript and have given this version final approval to be published. All authors read and approved the final manuscript.
Acknowledgements
The authors would like to thank Julie Fischer for her role in assisting the evaluation program in its early stages and mentoring RJM throughout the year. We are grateful for the work and advice given by Alyssia Rossetto in developing a coding framework and analysing qualitative data. We would also like to thank Ms Betty Kitchener AM, for her role in the development of the teen MHFA program materials. Funding for this project was provided by beyondblue: The National Anxiety and Depression Initiative via an Early Career Researcher Grant awarded to LMH, and by a NHMRC Australia Fellowship awarded to AFJ. Funds for the development of program materials were provided by Mental Health First Aid Australia and the Jack Brockhoff Foundation. The team would also like to thank the Victorian Department of Education and Early Childhood and the Catholic Education Office Melbourne for their assistance with recruitment for this research.
Competing interests
AFJ is a board member of Mental Health First Aid Australia but receives no remuneration for his role.
Open AccessThis article is distributed under the terms of the Creative Commons Attribution 4.0 International License (http://creativecommons.org/licenses/by/4.0/), which permits unrestricted use, distribution, and reproduction in any medium, provided you give appropriate credit to the original author(s) and the source, provide a link to the Creative Commons license, and indicate if changes were made. The Creative Commons Public Domain Dedication waiver (http://creativecommons.org/publicdomain/zero/1.0/) applies to the data made available in this article, unless otherwise stated.
Authors' Affiliations
(1)
Population Mental Health Group, Centre for Mental Health, Melbourne School of Population and Global Health, University of Melbourne, Melbourne, Australia
(2)
School of Psychology and Public Health, La Trobe University, Melbourne, Australia
(3)
Mental Health First Aid, Melbourne, Australia
(4)
School of Psychology, Deakin University, Geelong, Australia