Development of a multi-layered psychosocial care system for children in areas of political violence
International Journal of Mental Health Systems
2010
4:15
Received: 12 March 2010
Accepted: 16 June 2010
Published: 16 June 2010
Abstract
Few psychosocial and mental health care systems have been reported for children affected by political violence in low- and middle income settings and there is a paucity of research-supported recommendations. This paper describes a field tested multi-layered psychosocial care system for children (focus age between 8-14 years), aiming to translate common principles and guidelines into a comprehensive support package. This community-based approach includes different overlapping levels of interventions to address varying needs for support. These levels provide assessment and management of problems that range from the social-pedagogic domain to the psychosocial, the psychological and the psychiatric domains. Specific intervention methodologies and their rationale are described within the context of a four-country program (Burundi, Sri Lanka, Indonesia and Sudan). The paper aims to contribute to bridge the divide in the literature between guidelines, consensus & research and clinical practice in the field of psychosocial and mental health care in low- and middle-income countries.
Keywords
Mental HealthPsychosocial SupportPolitical ViolencePsychosocial WellbeingCare Package
Introduction
There is ample literature available to demonstrate the impact of perpetual political violence on child mental health [1, 2]. A broad spectrum of consequences have been reported, including disruption of normal developmental pathways [3], breakdown of social structures such as family and school systems [4, 5], increased psychopathology such as depression, post traumatic stress disorder and anxiety [6, 7], as well as literature stressing the non-pathological nature of children's reactions, such as increased aggression, withdrawal, pre-occupation with negative thoughts [8]. At the same time, there are authors that warn for pathologizing entire populations and advocating children's and community's resilience [9, 10]. Patel and colleagues [11] report a vast gap between child and adolescent mental health needs and mental health resources in low- and middle-income countries, advocating for increased promotion and prevention activities. Moreover, there is very little evidence for the effectiveness of interventions in complex emergencies [12]. Concerned about the impact of violence and lack of attention for needed care, the international humanitarian community has developed a framework of protection, that is increasingly incorporating psychosocial and mental health care for children in complex emergencies like war [13–16].
Based on guidelines and research-informed recommendations, the following thematic areas on the provision of mental health and psychosocial support for children in low- and middle income countries (LAMIC) seem to emerge. First, the need for a complementary approach that addresses both individual clinical needs (curative approach) and broader needs of community revitalization (preventative approach) is often advocated [17]. Moreover, interventionists recommend moving from single intervention approaches to multi-sectoral, multi-level, ecological or systems-oriented intervention programs [6, 10, 18–20], i.e. intervention packages that address multiple types of needs ranging from children at risk to children with psychiatric symptoms with a range of services from broad-access (community-based) to restrictive-access (clinic based). However, besides guidelines and discourse, there are scarce examples of such care systems in practice, especially for children in areas of war [21]. Exceptions are the models presented by de Jong [18] and by Saltzman and colleagues [20], who describe mental health programs in low and middle-income countries (LAMIC).
Second, although there is little uniformity in modality for psychosocial and mental health interventions for children in armed conflict [21], the majority of available guidelines and key publications advocate the importance of; (a) normalization of the child's daily life and recreational activities; (b) social reconnection/reintegration and social support mechanisms; (c) utilization of individual and community coping and resilience mechanisms; (d) discouraging child-family separation because of the important role of caregivers; (e) focus on existing education and health care systems; (f) emphasis on reduction of social discrimination and non-medicalization of problems, and (g) youth participation [1, 6, 18, 22, 23].
Third, with criticism on approaches that follow a predominant medical model there has been a growing tendency towards interventions that foster community and individual resilience in LAMIC with limited resources. The resilience paradigm includes a focus on social support systems, community mobilization and strengthening existing coping strategies [23, 24]. At the same time, there are numerous publications that warn for an artificial dichotomy and argue that there is a substantial group of children with severe and sustained problems that require more focused care [14, 25–27].
Fourth, increasingly, from both humanitarian and scientific literature, there is a call for rigorous evaluation of the effectiveness and efficacy of interventions. Some of the few available evaluation studies for children in LAMIC demonstrate moderate treatment effects [28–31], while some studies show no beneficial effect of treatment [28, 32]. A recent systematic literature review into the evidence base of psychosocial and mental health interventions for children in war-affected countries demonstrates that there is a serious lack of rigorous studies. Existing studies evidence mixed results (ranging from no treatment effect to moderate effect sizes at most) and are heavily skewed towards a focus on PTSD symptoms [21].
Fifth, cultural variables play a crucial role in the expression of problems and the relevance and choice of health care options. As a result, assessment and services for affected children need to be adapted to their context, building on local perceptions of needs, traditional notions of healing including reconciliation and cleansing rituals, inter-sectoral collaboration and integration within existing services [18].
This paper describes an intervention model, aiming to translate existing consensus, principles, guidelines and scientific literature into a framework of care provision. The intervention model was implemented in five (post-) conflict settings; Burundi, Sudan, Sri Lanka, Indonesia and Nepal.
Model presentation
To provide mental health and psychosocial support to children in areas affected by political violence we developed a multi-layered care package (See Figure
1
; Table
1
). A care package approach does not dictate the use of any specific interventions; rather, it prioritizes the facilitated transfer of clients between components along a continuum of care [
33
]. The first level comprises of interventions targeted to the general population or the whole target group to prevent healthy, albeit at-risk, populations to develop psychosocial problems (e.g. interventions to promote adaptive adjustment and community resilience). The second level consists of interventions that target sub-groups of the population at-risk for developing mental health problems or that demonstrate mild problems (e.g. focused interventions to reduce psychological distress). The third level comprises of interventions that target treatment of sub-groups with severe mental health problems (e.g. specialized interventions to reduce severe psychological distress, suicidal risk and other high-risk behaviors). This package of care was developed before the publication of the IASC guidelines on mental health and psychosocial support in emergencies, but in essence is conform to its principles [
14
].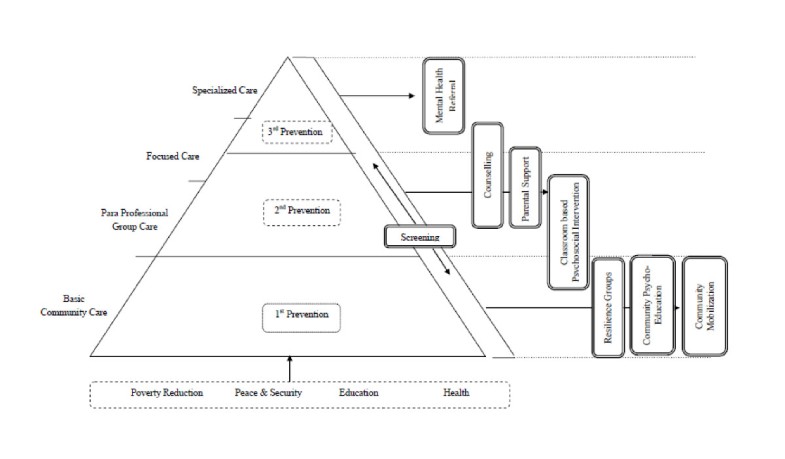 Table 1
Overview of interventions
| Public mental health model | Primary objective | Module | Specific objective | Intervention modality | Personnel | Level of training (indicative) |
| --- | --- | --- | --- | --- | --- | --- |
| Tier 1: Primary prevention | Strengthening Community Resilience | Youth groups (Resilience Groups) | • Reduce stigmatization | Group activities | | |
| | | | • Secondary screening | | | |
| | | | • Increasing social support | | | |
| | | | • Strengthening of resilience • Normalization | | | |
| | | Community awareness raising | • Provide information on CTP | Group psycho-sessions with: | Community | 2 weeks |
| | | | • Raise awareness on general psychosocial issues | -Teachers | Psychosocial Workers | |
| | | | • Raise awareness on community and/or target population- specific topics | - Parents | | |
| | | | • Mobilization of existing resources and roles | - Community groups | | |
| | | Community Mobilization | • Utilization of existing community resources | Case-management | | |
| Tier 2: Secondary prevention | Care for children at risk for developing more severe problems | CBI | • Reduce psychosocial distress to sub-threshold | Classroom-based group sessions | CBI Facilitators | 10-12 days (with subsequent regular 4-day booster courses) |
| | | | • Reduce risk of mal-adaptation • Facilitate resilience and normalcy | | | |
| | | Parent/Family Intervention | • Support child-parent relationship • Child rearing support | Home visits or family sessions | Counsellors | 4-6 months |
| Tier 3: Tertiary prevention | Advanced care for children with severe distress | Counselling | • Care for children with more severe problems | Individual or group counselling Case-management | | |
| | | Referral to external services | • Specialized care (formal and informal) for severe problems | | | |
| Tiers 1, 2 and 3 | Improving access to, and quality of, care system | Monitoring and Evaluation | • Determine reached population | Questionnaires | Service providers and beneficiaries | n.a. |
| | | | • Evaluation of services | | | |
| | | | • Provide overview of results | | | |
| | | Screening | • Detection of indication for treatment | Child Psychosocial Distress Screener | CBI facilitators/Community psychosocial workers | 2 days |
| | | Clinical Supervision | • Continued learning • Clinical support through case discussions | Group inter-vision meetings | Mental health professional (incl. experienced counsellors) | Significant clinical experience |
| | | | • Support to service providers | | | |
| | | | • Project implementation issues | | | |
In this paper we use the composite term 'mental health and psychosocial support', to indicate overlapping concepts that refer to a broad concept that encompasses 'any type of local or outside support that aims to protect or promote psychosocial wellbeing and/or prevent or treat mental disorders'. In turn, 'psychosocial' is defined as the close relation between psychological factors (emotion, behavior, cognition) and the socio-cultural context [14, 34].
The care package aimed to: (a) increase community awareness on children's psychosocial and mental health problems; (b) mobilize coping strategies and community resources; (c) increase social support systems, and (d) reduce psychosocial distress and severe psychological difficulties amongst children. In doing so the multiple interventions were structured within an interconnected and complementary care system working on different interdependent ecological levels. All services were provided by trained teams of local professionals. Below we will present the content and rationale for the different components of the package (See http://www.psychosocialcarechildren.org for detailed description).
Discussion
In this paper we have argued for a multi-layered mental health and psychosocial support system for war-affected children. Specifically, we have adopted a public health model, aiming to maximize the number of children reached with the limited resources available. This has resulted in a three-tiered system of interventions with different intervention or therapeutic foci; (a) community-based interventions to strengthen resilience; (b) group based interventions to reduce moderate level psychosocial distress, and; (c) focused interventions to address severe distress and high-risk populations. A strength of the approach is that it aims to combine often diverging or unconnected approaches; combining vulnerability and resilience perspectives, targeting of current life stresses as well as exposure to traumatic events, and a focus on new interventions alongside existing resources in the community. Moreover, it provides a replicable working model for multi-layered care in LAMIC settings.
Outcomes, evidence for effectiveness of interventions as well as adaptations of this approach are currently being assessed and are presented elsewhere. Nonetheless, several challenges to this approach can be noted. First, using schools as the entry point for service provision risks overseeing non-school going children. For example in Indonesia, qualitative research showed that a specific vulnerable group concerned children who dropped out of school [58]. Second, a care package approach, even with non-specialized paraprofessionals, may be difficult to sustain with limited financial resources. Cost analyses will need to inform about notions of feasibility in resource poor settings. Third, a common model risks being incongruent with the principle of cultural sensitivity. Careful attention should therefore be given to utilizing such model as a framework within which interventions and implementation is contextualized, based on existing needs and resources. Fourth, sustainability of a system of care will depend in part on the level of integration with existing systems of care. A stand-alone care package risks fragmentation and competing parallel care systems solely dependent on outside financial and technical inputs. Moreover, integration of a care package into existing community and government systems tends to reach more people, be more sustainable and carry fewer stigmas [14]. Although much effort was undertaken to integrate the project in existing community-based systems of care, more efforts need to be undertaken to integrate the above described care system in governmental systems of care and policy. Fifth, and related, the here-described model lacks to specify further linkages with other sectors, i.e. livelihood or peace-building programs (see also Figure 1), considered particularly important in settings of extreme poverty. For example, in line with de Jong [18], Wessells [16] argues for integrated and inter-sectoral collaboration, in which livelihood or infrastructural programs complement psychosocial support (as well as vice versa) in that they often address pertinent distress within poverty-stricken populations.
The above points demonstrate that the presented model is by no means a finalized product; rather it is a framework that in future years needs to be developed and adapted further, at each of the prevention levels. In light of these limitations it is important to note that the paper aims to present an example model that needs to be further developed, adapted and researched. At the same time it aims to demonstrate that carrying out a multi-layered care package is a feasible alternative to a single intervention approach.
In summary, given the gross lack of mental health infrastructure and human resources a core question is how to organize and deliver psychosocial and mental health services for children in conflict affected settings. It is not sufficient to demonstrate that an isolated intervention is effective in reducing a specific disorder among a given sub-population. Above all, we need to demonstrate convincingly that we have a system of preventive and curative interventions that not only address a range of needs but also attend to the mechanisms of care delivery. This paper has described an effort to develop a replicable care package for children in complex emergencies, presenting a framework on how to deliver and organize psychosocial and mental health care. It has employed a care system approach which facilitates transfer of beneficiaries between components along a continuum of multi-layered care, combining preventative and curative interventions, with different care components targeting different sub-populations.
Declarations
Acknowledgements
The reported project has been made possible through funding from PLAN Netherlands.
Authors' Affiliations
(1)
Department of Research & Development, HealthNet TPO, Amsterdam, The Netherlands
(2)
VU University Medical Center, Vrije Universiteit, Amsterdam, The Netherlands
(3)
School of Medicine, Boston University, Boston, USA
(4)
Church World Services, Jakarta, Indonesia
(5)
Shantiham, Jaffna, Sri Lanka
(6)
Burundi Country Office,HealthNet TPO, Bujumbura, Burundi
(7)
Sudan Country Office, HealthNet TPO, Yei, Sudan
(8)
Faculty of Social and Behavioural Sciences, Utrecht University, Utrecht, The Netherlands
Copyright
© Jordans et al; licensee BioMed Central Ltd. 2010
This article is published under license to BioMed Central Ltd. This is an Open Access article distributed under the terms of the Creative Commons Attribution License (http://creativecommons.org/licenses/by/2.0), which permits unrestricted use, distribution, and reproduction in any medium, provided the original work is properly cited.