The Australian mental health system: An economic overview and some research issues
International Journal of Mental Health Systems
2008
2:4
Received: 12 September 2007
Accepted: 14 May 2008
Published: 14 May 2008
Abstract
This article is concerned with the key economic characteristics of Australia's mental health system. First, some brief conceptual and empirical descriptions are provided of Australia's mental health services, both as a total system, and of its two principal components, viz. public psychiatric institutions and private psychiatry services. Expenditures on public psychiatric hospitals clearly demonstrate the effect of deinstitutionalisation. Data from 1984 on private practice psychiatry indicate that per capita utilisation rates peaked in 1996 and have since fallen. Generally, since 1984 gross fees have not risen. However, for both utilisation and fees, there is evidence (of a statistical kind) that there are significant differences between the states of Australia, in these two variables (utilisation and fees). Emphasis is also placed on the economic incentives that arise from health insurance and the heterogeneous nature of mental illness. The effects of these incentives are regarded as by-products of the health insurance mechanism; and another effect, "unmet need" and "met non-need", is a somewhat unique problem of an informational kind. Discussion of many of these issues concludes on a somewhat negative note, e.g. that no empirical results are available to quantify the particular effect that is discussed. This is a manifestation of the lacunae of economic studies of the mental health sector.
Keywords
Mental HealthMental IllnessMental Health ServiceMoral HazardAdverse Selection
Introduction
Mental illnesses and conditions are amongst the most important chronic diseases in populations internationally [1], and in Australia [2–4]. Mental health problems are receiving more attention, and mental illnesses are now less stigmatised, in the general population and in several scholarly literatures, than they have been for centuries. Topics in the media and the literatures of mental health professionals and health services researchers indicate broad concerns over homelessness, youth suicide, the prevalence of depression, the drugs of dependence and the side-effects of medications, and so forth. However, some other mental health issues receive relatively less attention, and some disciplines, including economics, tend to neglect mental health issues.
The purpose of this article is to draw attention to the major economic features of Australia's mental health system or sector. The initial Section emphasises the heterogeneity of the sector using a Venn diagram that depicts the main sets, i.e. the components of the system. The Section also presents some data on how the size of public psychiatric institutions has changed through time, as well as providing an overview of the key economic features of private psychiatry services. Emphasis is then placed on the incentives or motivations of participants in the health system: this discussion is centred on issues associated with health insurance per se, viz. moral hazard and two issues of an informational kind (adverse selection and an imperfect agency relationship), as well as the twin issues of "unmet need" and "met non-need". Another Section considers the importance of the range in the severity of diagnoses, as well as heterogeneity in general, and the implications for mental health services. There is a brief conclusion that highlights the paucity of economic studies of mental health in Australia.
An economic overview of Australia's mental health system
Heterogeneity characterises Australia's mental health system: multiplicities of services are provided, and there are multiplicities of localities where these services are provided. No "norm" ought necessarily be concluded from casual observation.
Another characteristic is that the boundaries of the segments are somewhat arbitrary when one attempts to comprehend the system. A "narrow", "traditional" or "conventional" focus on the system is available by applying National Health Accounting conceptions. These conceptions were defined by Abel-Smith [5], the architect of the World Health Organization (WHO) classification of health expenditure. Broader conceptions, involving all relevant economic phenomena, can also be defined. These are discussed shortly.
The multiplicity of service providers is depicted conceptually as a Venn diagram in Figure
1
[
6
]. This Figure is constructed with "All Mental Health Services (Formal and Informal)" at the centre. Each of the other sets represents other parts of the health sector, some of which do not relate to mental health at all, for example "Private Non-psychiatric Hospital-based Services, including Accommodation", and "Non-Mental Illness (MI) Pharmaceuticals". The universal set is the health sector. Individual sets depict a service provider, e.g. GPs, specialist psychiatrists, para-medical professionals, family members, self-help groups and so on. Some sets are remunerated for their service provision and others are not.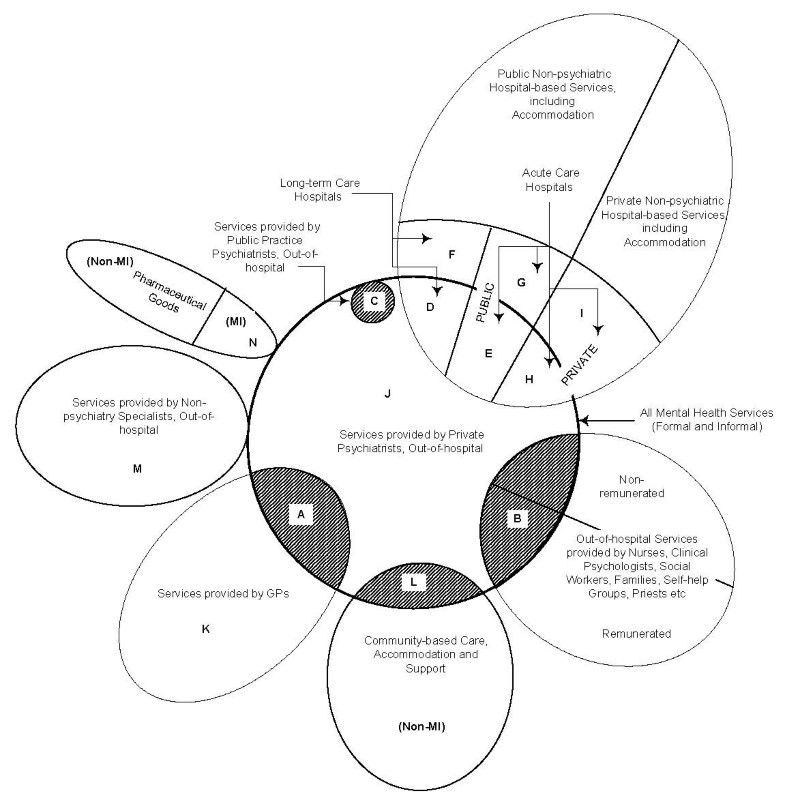 The Figure indicates that services are provided in a number of locations. Although location can largely be simplified to "in-hospital" and "out-of-hospital", there is an important distinction to be made between dedicated public psychiatric hospitals that provide long-term care for the chronically ill, and short-term hospital services for the acutely ill. (Chronic/acute mental illnesses are not always diagnostically clear and mental illness can, for some diagnoses, be conceived on a continuum. This issue will be discussed below in relation to Figure 3, which involves a consideration of heterogeneity). Note also that the provision of long-term care has decreased since the advent of the deinstitutionalisation movement, which resulted in community-based service provision. Deinstitutionalisation is not a recent phenomenon: Australia's experience began in the mid-1950s [7]. Figure 1 also shows that mental health services can also be provided in dedicated private psychiatric hospitals.
Although Figure 1 presents the main elements of the system, it does not capture all the "messiness" that arises from the dynamics underlying the health sector. Changes in funding/insurance arrangements, the temporal ebb-and-flow of federal structures and so forth are not depicted.
Despite Figure 1 being schematic in nature, it can be used to indicate empirical measures of various concepts. Suppose one sought to determine the level of expenditure on all mental health services (except forunremunerated services and opportunity costs, as well as intangible costs such as pain or suffering.) Figure 1 indicates that this exercise would involve the summation of expenditures associated with the various areas, depending on how comprehensive is the conception of "mental health expenditure". The nine areas A + B + C + D + E + H + J + L + N would provide a narrow conception. If one has a slightly wider conception, that is, all mental health treatments/services and hospital accommodation, the focus would be on the following twelve segments in Figure 1: A + B + C + D + E + F + G + H + I + J + L + N. However, a comprehensive economic conception of mental health expenditure, conceived of in the Cost-of-Illness (COI) approach, would include these twelve areas, as well as opportunity costs (lost earnings) and intangible costs (disability, pain, suffering, loss etc.), which are not specifically indicated in Figure 1. Examples of such COI studies are those for schizophrenia [8] and bipolar disorder [9]. Thus, Figure 1 serves as a guide to the mental health system and, in addition, indicates the relevant variables, when matters of measurement and quantification are the subject of attention.
One partial expenditure estimate of the size of the "system" is available for 2000–01 from the Australian Institute of Health and Welfare (AIHW), as part of an estimation exercise of ("direct") or "accounting" health expenditures by disease groups [10, 11]. Mental illness (excluding community mental health services) accounted for $3,018 m of $49,174 m total "allocated" health expenditures in that year. This estimate is smaller than a comprehensive estimate based on an (economic) COI conception discussed above. However, in terms of this narrow estimate, mental illness is the seventh most expensive disease category in Australia.
Australia's mental health system and mental illness
Mental disorders involve a broad spectrum of illnesses and conditions whose impact ranges from being extremely disabling to quite mild [46, 47]. As pointed out above [32], only a fraction of people with mental illness consumes mental health services: thus many, even with psychoses, have no contact with the mental health system. On the other hand there are many people (who do not meet the criteria of a mental illness) who do consume mental health services. The motive for this utilisation may be for the purposes of achievement or self-fulfilment [48, 49]. Others, the "worried well" [50, 51], also seek help, but their conditions are not within the conventional diagnostic criteria of mental illness. There are no Australian studies that indicate the relative importance of the effects of these various motives.
A stylisation of the groups described in the previous paragraph is provided in Figure
5
[
52
], which presents a distinction between serious mental illness at the core and mild conditions that are commonly experienced difficulties in coping with stress and distress, and thirdly the reasons for seeking help that involve those who wish to enhance themselves in their life roles. The distinction between these groups is not a trivial concern, as the funding of health services enables the non-sick to access government-subsidised or government-provided services. Given the private nature (in the economic sense) of medical services, such behaviour denies these scarce services to the mentally ill.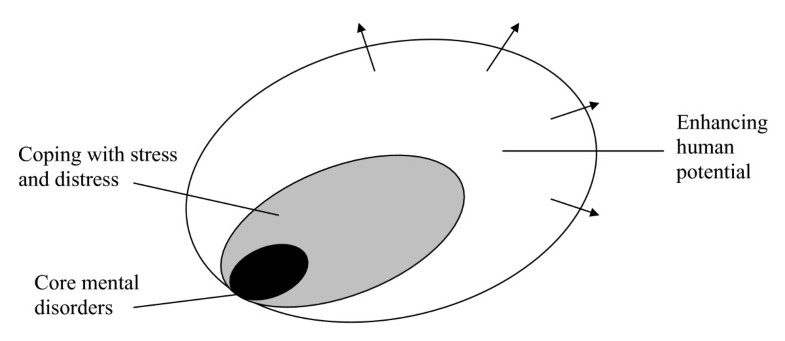 It is often suggested that allocated resources to Australia's mental health system are inadequate. However, the concern that Andrews [32] and Whiteford [33] express is the dilemma of "structural imbalance". Doessel, Williams and Nolan [34] demonstrate the dimensions of this phenomenon, and argue that "throwing more money" at the pre-existing structures in Australia will have little effect on the structural imbalance in Australia's mental health system. They suggest some possible measures for reform to address this structural imbalance dilemma.
Conclusion
This paper has addressed a relatively small number of questions associated with Australia's mental health sector, and the approach taken is, in large part, from the discipline of economics. For example, the emphasis placed on incentives is well established as an approach relevant to the scope of economics. This is not to suggest that other approaches, say, that of a health services research kind, are not relevant. It has been argued elsewhere that these are complementary (not substitutable) ways of analysing mental health issues [53]. These two approaches ask different, but related, questions.
Mental health clearly is a relatively untilled field for economists. Many empirical gaps exist in regard to both the private and public sectors. Also, work at a more conceptual level is very relevant to publicly provided mental health services, such as LeGrand's analyses with respect to the types of structural changes appropriate to the (non-market) National Health Service (NHS) in Britain [54–57].
Researchers of the economics of Australia's mental health system are likely to find no shortage of topics, but conceptual and practical problems are more intractable in the analysis of mental health than in health care generally. The crafting of research questions is of paramount importance. Also, some of the characteristics of mental health services have more in common with markets for disability services than medical services.
Declarations
Acknowledgements
The authors acknowledge, with gratitude, Ross Saunders at the Australian Government Department of Health and Ageing for his assistance in the supply of the Medicare data analysed here. The financial support of the Queensland Centre for Mental Health Research and the (then) School of Applied Economics Victoria University is also gratefully acknowledged.
Authors' Affiliations
(1)
School of Applied Economics, and Centre for Strategic Economic Studies, Victoria University, Melbourne, Australia
(2)
Queensland Centre for Mental Health Research, "The Park" – Centre for Mental Health, Australia
(3)
School of Population Health, The University of Queensland, Brisbane, Australia
Copyright
© Williams and Doessel; licensee BioMed Central Ltd. 2008
This article is published under license to BioMed Central Ltd. This is an Open Access article distributed under the terms of the Creative Commons Attribution License (http://creativecommons.org/licenses/by/2.0), which permits unrestricted use, distribution, and reproduction in any medium, provided the original work is properly cited.